We produce specialist TYPE-APPROVED drawbar Trailers. 
Truckmate is a drawbar trailer range, designed to meet your needs. Whether you carry waste containers (sometimes called hooklift or CHEM Bins) with truck-mounted hook-loaders, skips, or brick and block, we produce to the very best quality. In conjunction with the drawbar trailer for CHEM containers we also produce patented Bin Sheeting Systems.
We can also build to ADR Regulations - the European Agreement concerning the International Carriage of Dangerous Goods by Road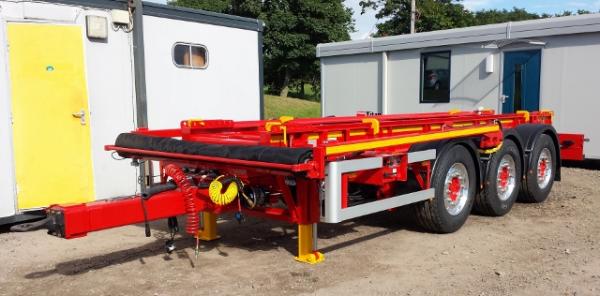 The drawbar recycling trailer shown above is a 24 tonne tri-axle trailer designed to carry hooklift containers. The patented bin sheeting system folds away, and in conjunction with the retractable drawbar, it allows loading over front and rear of the drawbar trailers.